"I picked up the controller and experienced the kind of thrill I imagine people must have had in the 1950s when they heard rock-n-roll for first time. My life has not been the same since." This was Russell Lovelady, a 23 year old reminiscing how he fell in love with soccer ever since he laid his hands on FIFA Soccer during his university days.
Lovelady is part of a large but quiet national revolution unfolding within the United States. Social scientist Rich Luker, the creator of the ESPN Sports Poll, recently announced soccer to be America's second most popular sport for those aged 18-24.  What astounded Luker in his research was the role played by video games in stimulating soccer passion. "…Games like FIFA have done more to advance the popularity of soccer than I have seen with any other sport."
So who are the people responsible for this groundbreaking phenomena? Matt Bilbey, general manager of EA Sports football franchises, is responsible for the alchemy of turning America into a soccer-loving nation. Drawing statistical and research data from EA Sports Digital Laboratory,  Bilbey spent 18 years overseeing the development of the FIFA franchise, transforming it from a crudely rejigged version of the developer's NHL game into a $5 billion franchise. It is so deeply authentic, it has been used to correctly predict the winners of the 2010 World Cup and this past MLS season.
"We have more research on what motivates people to watch football than anyone in the world…[and research indicates that] the American audience enjoys interacting with our game (FIFA Soccer) more than watching soccer passively on television." In fact, EA Sports initially failed to attract an American audience but once they understood the social value of the product viewed by its players, it easily drew them in.
What exactly was the gamification insight that was derived from the research? If you have seen or played FIFA 13 recently, you would have seen that the game starts up with a player against a keeper.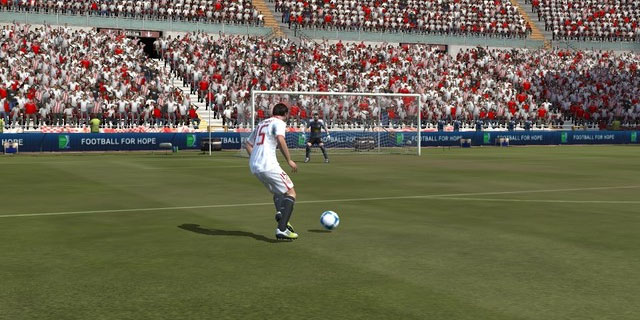 In "gamification speak", this is onboarding a user to get a feel for the game. EA is confident with the playability of the FIFA series that people will get hooked after a few minutes. They aren't wrong either. If you score a goal in the 1v1 screen, you automatically get an achievement for "scoring a goal in the arena". Starting to sound engaging?
Starting FIFA 12, EA introduced a new way to compete in multiplayer modes. Below is a screen shot of what a player's profile looks like.
From a quick glance, you see:
1) Progression Loops- You start at division 10, and the goal is to get to division 1. Each division has certain progression that allows you to be promoted to a higher division (progress bar). Lastly, a player can see everything they have won in terms of leagues and cups.

2) Engagement Loop- To engage the player further, players only compete against those within the same division. This levels the playing field. In addition, there is something for everyone. Although not shown, there are plenty of other modes (ex. online team play and manager mode) that allow the player to experience soccer in a way that isn't possible by passive watching.
So what can enterprise and the gamification industry surmise from this? Firstly, as Bilbey took 18 years to successfully develop the FIFA franchise, it takes time and patience to properly implement gamification. From FIFA 94 to FIFA 13, EA has taken the time to properly understand the target audience. Through iteration, engagement, and progression, EA has given America an unique ability to allow people to experience soccer to the fullest at the comfort of their living room. Last but not least, as EA Sports's success is accredited to its Digital Laboratory's extensive research data, further research for gamification's impact in diverse work environments would be a success multiplier for the industry in the long run.
---

Need help with behavioral science and gamification? Get in touch with our boutique consulting agency Dopamine.